Manufacturer

:

Connect America

Model Number

:

medical-alarm
No Activation or Setup Fees
No Long Term Contract
Medical Alarm System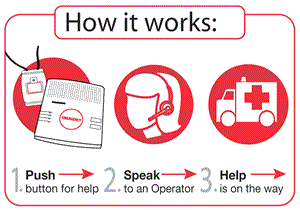 If you or a loved one worries that there may be an emergency and you won't be able to get to a telephone, the Medical Alarm System is the perfect service for you. It is easy to setup, easy to use and there is no long term contract to be scared of.
In the event of an emergency, simply push the button on the wireless transmitter which can be worn around the neck or wrist for convenience. The Medical Alarm System then uses your existing telephone line and contacts an operator. The operator can then heard be through the product's speakers (like a speaker phone). The operator will ask what is wrong and can contact your local EMS if needed. The operator will also have all your pre-existing conditions on file and will inform the EMS of these to help expedite the help process.
If you are interested in, please fill out the form below and someone will contact you shortly. They will answer any additional questions you may have. To better help you in case of an emergency, sensitive medical information will be gathered over the phone. Required fields in the form are indicated with
red
labels.