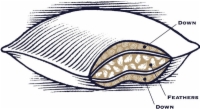 The Double Down Around® pillow by Pacific Coast Feathers® offers consistent comfort and firmness. Duck down outer compartments provide a very soft platform next to your skin.
Using a 300 thread count AllenRest® outer cover, HyperClean® feather core, and a navy corded edge, this pillow is the ultimate in comfort and style.
This pillow is backed by a 5 year limited warranty and will be the perfect addition to your home.