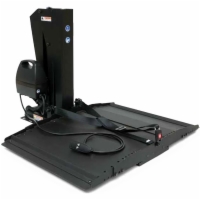 The Backpacker AVP by Pride is an easy and simple way to store and transport your power chair or scooter into the back of your crossover, small-sized SUV, or minivan. To load your scooter or power chair, it's as simple as 1-2-3:
Press the button on your remote and the platform will safely lower to the ground
Drive your mobility aid onto the platform and secure it using the strap
Press the button again and the Backpacker AVP will lift and load it into the back of your SUV or full-size van!
The Backpacker AVP has an adjustable platform for smaller SUVs 42"-34". We also include a free battery pack, so there is no wiring needed!