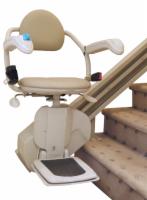 For a smaller price tag, you can get the reconditioned AmeriGlide Vesta stair lift today!
The reconditioned Vesta features a battery-backup, in case of a power outage - which gives you peace of mind when operating your stair lift. The padded and shock-absorbent seat allows for safe, comfortable transit up and down your stairs.
Call our experts today for the lowest price you'll find!
ETL 3137712; Conforms to ASMI Std A17.5; Certified to Can/CSA B44.1