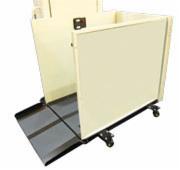 Vertical platform lifts can be the ideal way to make a home or business accessible to those in wheelchairs. And if there's more than one place that needs this kind of accessibility, a portable option can make accessibility affordable and convenient. The Portable Hercules II 600 Vertical Platform Lift is designed to be an indoor or outdoor lift. It moves easily on casters from place to place as needed, to offer people who use wheelchairs and scooters more mobility.
A portability package has been added to the standard Hercules II 600, turning it from a high-quality permanent lift to a portable one.
This vertical lift has a platform measuring 36" x 48" and a weight capacity of 600 pounds. Contact us today about your new portable Hercules vertical lift!