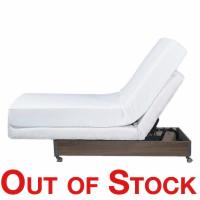 GoldenRest®'s Ultra uses the outstanding base of their Supreme adjustable bed but adds a viscoelastic memory foam mattress on top for the ultimate in luxury adjustable bed comfort. Benefits of sleeping on the Ultra can include increased breathing capacity, improved circulation, back pressure relief, and pressure point relief. The Ultra's whisper quiet motor system allows you to independently adjust your head and feet and the steel frame provides years of squeak-free comfort.

The Ultra's viscoelastic memory foam mattress is a full foam mattress with a 2" layer of premium memory foam on top. This mattress gives you incredible support and pressure point relief and carries an even longer warranty than GoldenRest®'s steel coil adjustable bed mattress.

The Ultra has a built-in dual-motor WAVE massage system. This massage system allows you to select three different types of massage and gives you an infinite number of intensity adjustments. Wood skirt trim included. Made in the U.S.A.