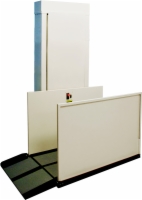 The AmeriGlide Hercules II 600 Commercial porch lift gives you heavy-duty lifting. This is the perfect commercial wheelchair lift for schools, churches, and businesses.

Features of the Hercules include weather resistant controls, motor with screw drive, limit switches, a fixed ramp, solid side walls, solid platform, handrails, and paddle controls.

Meets ASME A18.1, Section 2 - "Vertical Platform Lifts" and CSA B44.1 / ASME 17.5 - "Elevator and Escalator Electrical Equipment" safety standards when configured properly. Proper configuration varies per application.