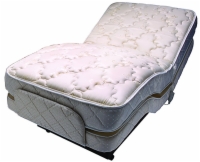 The Premier is Flex-A-Bed's high-end adjustable bed. It can help nearly anyone get a better nights sleep, whether you are in good health or if you have injuries or chronic pain. The hand control on the Premier controls Swift-Adjust motor that allows you to quickly and independently adjust your head and feet until you find the perfect sleep position.

Premier beds are hand-built with a high-density foam foundation and Advantech base material that will not warp, break, or squeak. The deluxe mattress comes covered in premium fabrics and can be ordered in several levels of firmness. Premier beds come with a worry-free lifetime warranty as well.

Please note: Premier models no longer come with a fabric covered retainer bar as pictured. Retainer bars are now similar to the Value model with a powder coat white finish.