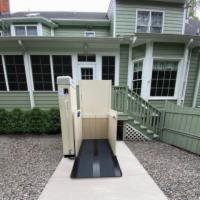 The AmeriGlide Hercules II 600 Residential porch lift is an economical way to add a robust porch lift to your home. The Hercules II 600 Residential requires some assembly, but once assembled all you have to do is move it in place and secure it. And because it is weatherized, it can be used inside or outside.

Features of the Hercules II 600 Residential include weather resistant controls, motor with screw drive, limit switches, solid platform, automatic folding ramp, and safety pan.

Meets ASME A18.1, Section 5 - "Private Residence Vertical Platform Lifts" and CSA B44.1 / ASME 17.5 - "Elevator and Escalator Electrical Equipment" safety standards.