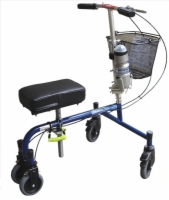 The RollerAid is a very lightweight turning knee scooter, but do not let its weight fool you, because it is designed to support people who weigh up to 350 pounds. For those recovering from a below the knee injury or operation, this knee scooter is an excellent alternative to using crutches.
Front swivel wheels allow this device to be very maneuverable, with a turning radius of less than 3 inches. The wheels can also be quickly and easily locked in place when you are traveling in a straight line.
Weighing less than 20 pounds, the RollerAid is very easy to handle. It can be quickly collapsed and placed in the trunk of a car, with plenty of room left over for your groceries.
This mobility aid is designed for individuals who are between 4'10" and 6'4" and comes with a basket and water bottle holder.
Please note: Customers 5'3" and shorter will need some knee flexibility in order to comfortably use the RollerAid. If you are this height and have had knee replacement surgery, have limited knee flexibility, or other knee mobility issues, you may find the knee cushion to be too high.