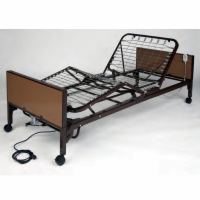 This semi electric homecare bed from Medlite uses two motors and one manual crank to reposition the user as needed for comfort and convenience, easing the duty of transfers, bathing, and many other daily tasks. Each leg is equipped with smooth-rolling 3-inch caster wheels to make moving your homecare bed a frustration-free process, and you don't have to remove the motors to reposition the bed. Two of the caster wheels are equipped with top-activated brakes, so the bed is easily locked in place.

This bed's frame is painted with three coats of enamel and then clear-coated, giving the bed an ultra-durable finish that won't chip or scratch. The high-impact plastic end panels are break-resistant and easy to clean, and the remote control is made to heavy-duty standards, so drops or moisture won't keep you from using your bed to its fullest capabilities!

The whisper-quiet, low-voltage DC motors keep both patients and caregivers safe, and the electronics can be safely washed down with standard water pressure. All supports and hinges are placed to avoid pinching or otherwise entrapping the user. Despite weighing less than 150 pounds, this Medlite homecare bed can support up to 450 pounds of weight!

This semi electric Medlite homecare bed carries a lifetime warranty on the bed frame and welds; additionally, for the lifetime of the original purchaser, this bed is guaranteed against any and all defects! All other component parts are covered by a 5-year warranty.