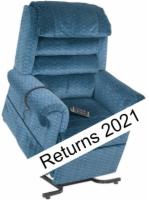 With Golden MaxiComfort lift chairs you can experience the zero gravity difference. This spectacular resting position relieves virtually all pressure on the lower back and has beneficial effects on many other areas of the body. While resting in the zero gravity position you will experience expanded lung capacity and improved circulation on top of back pressure relief.
The Golden Relaxer PR-756 Large is a large infinite position lift chair designed for total relaxation and relief. This lift chair allows for a greater range of positioning all at the touch of a button. This model comes standard with Golden's Smart Tek diagnostic system and revolutionary Auto Drive controller.
Experience the difference of this new motion technology and feel what relaxation really means.