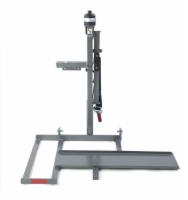 The Pride Power Tote Mini is a lightweight, powered lift (weighing only 47lbs) that is specifically designed for 3-wheel travel-size scooters. This scooter lift mounts to Class II and III hitches.
Not only is the lift lightweight, it also folds by hand to be locked against the lift frame to keep it compact when it is not in use. When the scooter is attached, the Power Tote Mini uses a small lock-down arm and strap to ensure that your scooter is safe and secure.
Another great option customers like to add to their purchase is the battery pack. Not only is it inexpensive, but it also makes installation easy because you won't have to run a wire to your vehicle's battery.
NOTE: Hitch Not Included