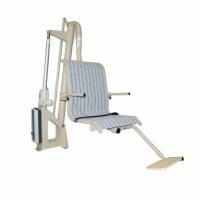 ADA Commercial Pool Lift For Public Pools
The AmeriGlide AG100 Pool Lift makes entry and exit of your public pool easy for handicapped swimmers. Operation is easy with the provided control pendant, controlling how high or low the lift will go. This lift is ADA compliant with the new regulations being put into place starting Janury 31, 2013. You will enjoy the hand controller and battery pack that can be removed, making the lift unusable for unauthorized users.
Every public pool will be required to have handicap access to their swimming pool and the AmeriGlide Pool Lift does just that at an extremely affordable price!
You can save even more with our Quantity Discounts by purchasing at least 3 pool lifts! Call our pool lift specialists to receive this discount.