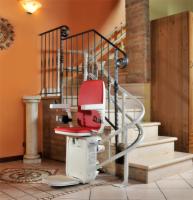 The Platinum Curved Heavy Duty Stairlift can handle curves, landings and users up to 352 pounds. Heavier users may not be able to use standard stairlifts, but this model is designed with a higher weight-limit specifically to help people of larger stature regain access to all levels of their homes.
Standard staircases may require only a straight stairlift, but when there are landings and curves to deal with, a special lift is necessary. This quality lift is built to your stairway's specifications for a perfect, custom fit every time. This makes the lift safer to use and guarantees that it will work in your home without the types of construction and adaptations that are necessary for platform lifts and elevators.
Features like retractable safety belts, a swivel seat, a joystick at the end of the armrest and a footrest that raises and lowers with the press of a button so you don't have to bend over offer safety and convenience that make your stairlift even easier to use. Don't give up any of your mobility when you can navigate even complicated stairways with the Platinum Curved Stairlift HD.
Check out the full installation video!