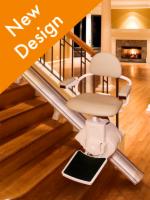 The AmeriGlide Ultra Stair Lift is a high-quality stair lift that can help you stay in your home. Whether you use a wheelchair or only occasionally have trouble climbing stairs, a stair lift can be the perfect solution. AmeriGlide's stair lifts are designed to look as nice as piece of furniture while allowing you to enjoy access to all levels of your home.
The 2013 AmeriGlide Ultra Stair Lift uses a rack and pinion drive system that provides a smooth ride, with Soft Start and Soft Stop technology to keep you from feeling jolted. The design keeps the stair lift from blocking the steps so that they can be walked on safely, while the lift itself has several safety features that let you feel secure.
A 300-lb weight limit allows most people to use the lift safely. Controls in the armrest also make it easier for people with hand and arm mobility issues to reach and control the chair. The swivel seat allows for easy entry from a wheelchair and lets you step out naturally instead of sideways at the top of the stairs.
Contact us today for more information about how an AmeriGlide stair lift can help you in your home.