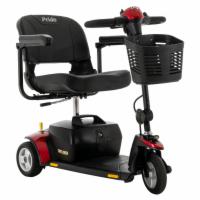 If you are suffering from mobility challenges that are keeping you from participating in the activities you love, the Pride Go-Go LX with Comfort Trac Suspension might be the perfect solution to getting you back on the move.
This sporty and lightweight model is the only product on the market that features a suspension system for an unbeatably smooth and gentle ride. Front and rear suspension coils work together to cushion you as you travel and prevent any unnecessary jarring as you easily traverse a variety of terrain.
In addition to a surprisingly smooth ride, the Pride Go-Go LX with CTS also comes with a feather-touch disassembly system that allows you to quickly and easily take apart your scooter into five lightweight pieces for easy, hassle free transport. This strong and durable scooter can be stowed away in the trunk of most vehicles so that you never have to be without your mobility scooter.
Contact us today to find out more about this travel scooter and why it is in a league of its own when it comes to innovative technology and unbeatable value.