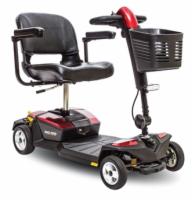 Don't settle for limited mobility. Get back to enjoying your favorite activities and experience the best in mobility technology and innovation when you purchase the Pride Go-Go LX with CTS 4-Wheel Travel Scooter.
This mobility scooter is sleek, sporty and offers the best in performance. It is the first and only model available to come standard with its own Comfort Trac Suspension system. Combined with the 4-wheel design, which adds further stability without sacrificing maneuverability, this model offers an unbeatably smooth and gentle ride.
In addition to an impressively smooth ride, the Pride Go-Go LX with CTS 4-Wheel Travel Scooter also comes with a feather-touch disassembly system that allows you to quickly and easily take apart your scooter into five lightweight pieces for easy, hassle free transport. This strong and durable scooter can be stowed away in the trunk of most vehicles so that you never have to be without your mobility scooter.
Contact us today to find out more about this travel scooter and why it is in a league of its own when it comes to innovative technology and unbeatable value.