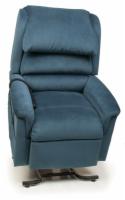 AmeriGlide's PL812 Infinite Position lift chair recliner offers all the therapeutic benefits of a recliner and the added bonus of being able to safely and gently guide you between sitting and standing positions. When it comes to lift chair comfort, the PL812 is in a class of its own. Its unique design features individual pocketed coil springs covered in dense foam that work to both cradle and support your body.
Eliminate unnecessary strain on your muscles and joints and enjoy greater freedom and mobility in your own home with this affordable lift chair.
This peerless model comes with an incredible warranty, 375 pound lifting capacity, and a variety of features that will allow you to customize the cushioning and support of your chair. Call us today to learn more.