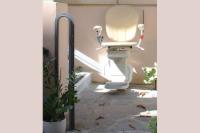 The AmeriGlide Horizon Outdoor Stair Lift is the perfect tool to help you safely navigate outdoor obstacles. This model comes with more safety features and innovative design details than any other available model. You can enjoy the best in stair lift engineering and innovation, all for an incredible price that include an extensive warranty.
The outdoor version of the Horizon Stair Lift is unique because all of its components have been weatherized and waterproofed so that it can withstand the elements. All of the electronic parts and controls are thoroughly protected and guaranteed to last. This model also comes with a waterproof cover for both the seat and carriage, which adds another layer of protection and will ensure that your stair lift is always free of dirt and moisture.
In addition to being a great outdoor option, the Horizon Stair Lift is also the best when it comes to safety. This battery operated model comes with a security key switch that will prevent unauthorized users from accessing your lift, a retractable seat belt, a swivel seat and many other standard features that will provide you with a smooth and safe ride every time you climb your stairs.
Call us today to learn more about this unique piece of stair lift engineering
Outdoor Stair Lifts are not intended for use in snow and ice