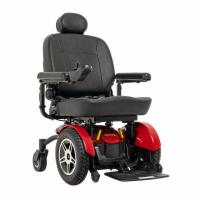 The Jazzy 600 ES Power Wheelchair is designed to provide superior performance and stability on both indoor and outdoor surfaces. This versatile model features both front and rear casters that will prevent tipping and ensure safe travel over any surface or obstacle. In addition, the innovative Active-Trac ATX suspension system will absorb bumps and allow you to enjoy a smooth ride, no matter terrain you encounter.
Not only does the Jazzy 600 offer the best in powerful and reliable performance, it also comes with a long list of features meant to provide you with the absolute most comfortable chair. The seat delivers the perfect combination of plush cushioning and strong support and the easy to operate joystick controls will allow you to easily navigate tight spaces.
To learn more about the special features that make this chair an incredible value and a superior mobility device, call us today and speak with a power wheelchair expert.