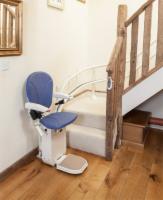 With the AmeriGlide Platinum Curved Factory Reconditioned Stair Lift, you CAN afford to install a custom fit stair lift in your home! This battery powered model can be custom engineered to overcome any home design challenge. From 90 degree turns, to spiral staircases, our curved models can handle anything.
This incredible value comes with a new track. In fact, the only part of the lift that has been used is the carriage, which is cleaned, repaired, and tested before being put up for sale. You can enjoy a comfortable, reliable, and durable stair lift that is guaranteed to look and perform just like new, but cost you less.
All of our reconditioned stair lifts are covered by an unbeatable warranty. You can rest assured that your stair lift will continue to provide you with safe and easy transportation up and down the stairs of your home for many years to come!
Call us today to learn more and place your order!