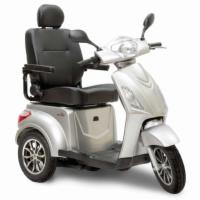 The Raptor 3-Wheel mobility scooter is anything but average. In fact, it is Pride's fastest model with speeds of up to 14 mph and a battery charge range of up to 31 miles. You can stay on the go longer and get to your destination faster than ever. With the Raptor 3-Wheel scooter, traveling can be safe, convenient and best of all, fun.
In addition to a powerful motor and long-lasting battery, the Raptor also includes innovative features that showcase the latest in scooter technology. The Raptor boasts a solid design and front and rear suspension system for a super stable ride that will feel smooth even over uneven terrain. A user-friendly tiller makes the scooter easy to operate and maneuver even in tight spaces. Users can monitor speed, mileage and battery life from the LCD display located in the console.
If safety is one of your main priorities, then the Raptor is the perfect model for you. It includes: a full LED lighting package with signal and brake lights, two rear-view mirrors, and a hand brake with regenerative braking system. You can safely travel your neighborhood in style.
Enjoy the latest in mobility scooter design and innovation with the sleek and speedy Raptor 3-Wheel scooter.