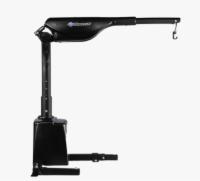 Heavy-duty capacity for power chairs and scooters.
The AL425HD is compatible with some full-size vans.
Check the compatibility calculator for correct fit.
Fully powered lifting and rotation for effortless loading
Passenger or drive-side compatibility
Adjustable Boom Height: 31.5" - 46.5"
Reinforced construction with strong components to support heavier weight capacities
NOTE: Additional options may be required for your specific use.