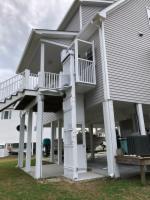 The Outdoor Elevator is the premier outdoor elevator on the market today. Built to withstand the elements, its all aluminum body proves to be the most durable VPL-elevator hybrid available, also meeting ASME A18.1 code.
Loaded with safety features, the door interlocks are mounted on all swing doors preventing a door from being opened with the elevator isn't present. The elevator will not operate until the gate is closed, ensuring that all hands and feet are fully inside the cab.
The Outdoor Elevator is the simplest outdoor elevator lift to install with "Plug N' Play" wiring and a team of experts to assist you with the preparation and planning of having an outdoor elevator installed at your home.