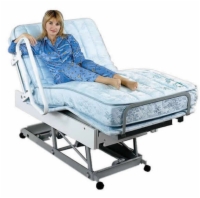 The Hi-Low Deluxe adjustable bed combines independent head and foot operation with unsurpassed hi-low operation. The Hi-Low Deluxe can adjust vertically almost 12 inches, and, at the lowest setting, the Hi-Low Deluxe is only 18" as measured from the top of the mattress to the ground. This greatly assists in transfers and makes patient care much easier on the caregiver.

The Hi-Low Deluxe comes with an orthopedic mattress with cloth or vinyl cover, thermally protected motors, powder-coated steel frame, and attractive skirting. The mattress contours with the base without bulging or losing support and the edges will not crumble during transfers.

Because the Hi-Low Deluxe lowers so close to the ground it's not compatible with Hoyer lifts in its standard configuration. It's best suited for owners who can transfer themselves. However, if you should need to use a Hoyer lift in the future, you can order an optional riser kit to make it compatible with Hoyer lifts.