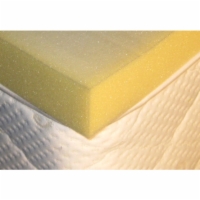 Memory foam mattress pads fit on all bed types, including adjustable beds, adding the comfort of viscoelastic memory foam to your bed. These memory foam mattress pads are high-quality and made in America.

Memory foam helps you sleep by molding to your body's shape and distributing your weight evenly across the mattress. This helps eliminate pressure points and lets your muscles relax as you sleep.

Memory foam has two measurements, weight and thickness. Heavier weight memory foam pads are denser so that you will not sink in as much. And the thicker the memory foam pad is, the more it will surround you. Which weight and thickness you select is a matter of personal preference, but please give us a call if would like more information.