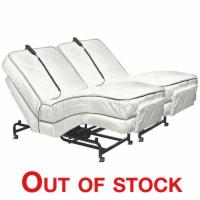 The dual king Standard adjustable bed is a set of two twin Standard beds. Placed side-by-side, these beds allow each user to adjust their bed independently.

GoldenRest®'s Standard adjustable bed gives you luxurious adjustable bed comfort at a tremendous price. Benefits of sleeping on the Standard can include increased breathing capacity, improved circulation, back pressure relief, and pressure point relief. The Standard's whisper quiet motor system allows you to independently adjust your head and feet and the steel frame provides years of squeak-free comfort.

The Standard comes with a premium, no-flip quilted mattress with steel coils. Made in the U.S.A.