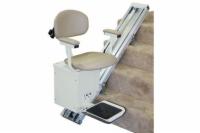 An AC Rubex Stair Lift from AmeriGlide is truly a gift that keeps on giving. This is because AmeriGlide was the first to use aircraft grade steel cables on motorized drums to power a stair lift. This is a design that is carried over from the elevator industry and makes sure that your loved ones are always safe while using their AC Rubex Stair Lift. In fact, this stair lift meets ASME A17.1 and A18 requirements and is ETL listed.

Because of the AC Rubex Stair Lift's bulletproof steel cable drive system you can count on the AC Rubex Stair Lift for years of service. AmeriGlide even backs it with a 10 year drive train and 5 year parts warranty.

Unlike other stair lifts, the AC Rubex Stair Lift comes standard with a capacity up to 350 pounds and can be configured with a keyed based unit, keyed call-send controls, a grocery basket, and a cargo rack. An outdoor package is available as well, letting the AmeriGlide work in covered outdoor locations (but not completely exposed locations).