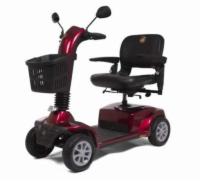 The Companion Series offers three "full-time", luxury scooters that offer compact style, power and dependability. Each is designed to allow you to maneuver through all your daily obstacles, inside or out. The bright metallic finish will make you the envy of all your friends, while your newly found freedom will provide you with a fuller, richer life.
Let Golden Technologies take all the worry out of purchasing a scooter. Our skilled technicians integrate the finest components with superior designs to provide you with the utmost quality, comfort, style and performance. We confidently stand behind all our products and provide you with the best warranties in the industry. Choose the scooter that all others are measured against...choose Golden!
In 2003 Golden Technologies was awarded the U.S. Veteran's Administration contract to supply our Companion scooters to all U.S. Veterans through Veterans Administration Medical Centers throughout the nation. We are very proud that the quality and durability of the Companion scooters, and our dedication to this program, has enabled us to renew this contract with the U.S. Veteran's Administration every year since.